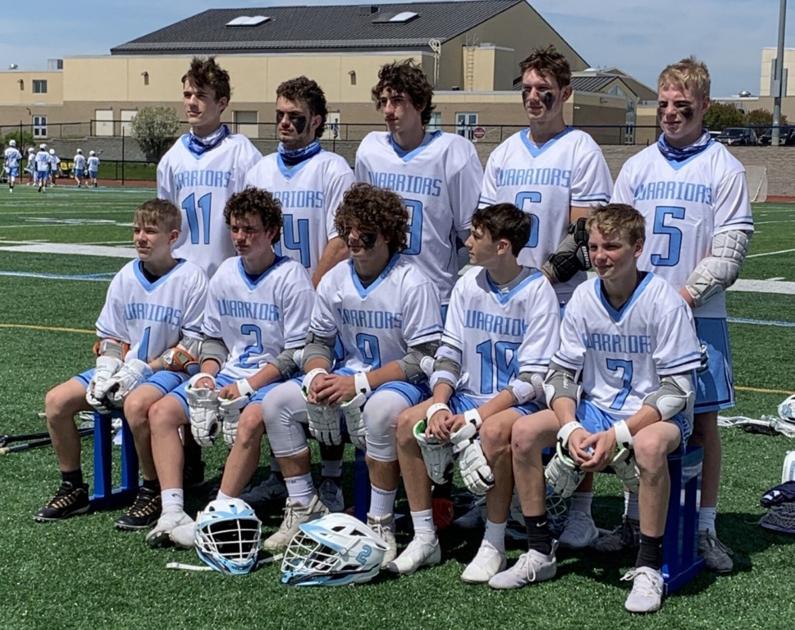 High school lacrosse: fabulous group of five brothers take Indian River to new heights | High school sports
PHILADELPHIA – Gabe Lynch and his Indian River lacrosse teammates see themselves as a tight-knit group.
A good chunk of this year's squad is literally a bunch of brothers, even with a few cousins ​​thrown into the mix.
The Warriors team, which is having one of the best seasons in the history of the program, includes five different groups of brothers, who also include two groups of cousins.
"We work really well together," said Gabe Lynch. "We've been playing together since year three, so we've bonded together."
First, there are four athletes named Lynch on the team – brothers Gabe and Kane Lynch – as well as another group of brothers with the same last name – Gannon and Brady Lynch. The two groups of Lynch brothers are all cousins.
"It's pretty crazy to have that too," Gabe Lynch said of playing with Gannon and Brady. "It's really crazy because we've been playing since we were young."
"It's pretty unique," ​​said Gannon Lynch. "It definitely brings competition to practice and we push each other. But once the playing time arrives, we look for the best of each other. "
Then there are three other combinations of brothers on the team – Reagan and Riley Alexander; Joe and Ethan Petrus; and Seth and Connor McMahon.
"It's really really cool," said Gabe Lynch. "We didn't know until the start of the season, we only realized when someone mentioned that we had five groups of brothers on the team.
"A lot of kids in sports can play with their brothers, but I think five groups of brothers playing together is just fantastic," Indian River head coach Nathan Davis said. "Because they can really learn on their own, they teach them to work harder and to be better players and teammates. It really brings a family atmosphere.
Most of the 10 brothers are midfielders, a position that is clearly a strength for Indian River and a sign of a balanced team.
"That always has to be the strength of your lacrosse team, I think, to have a good core of middies because they're the ones who come up and down the field," said Gannon Lynch.
He continued, "We all have different personalities, but they tend to work together most of the time, so it works."
Indian River has forged a 6-4 record so far this season, including a 5-4 performance in the Frontier League, so far one of the most successful lacrosse campaigns in school.
That includes an 11-7 win over Carthage on Tuesday night at the Warriors' home ground, which would be the first time Indian River has beaten the Comets, traditionally a powerhouse in the sport.
"It's really good to make history like that," Gabe Lynch said. "They produce a lot of ID athletes, so you have to stick to their schedule."
"It feels good, it's always good to beat Carthage," said Gannon Lynch. "It started close but we had the energy in the second half and finished it."
Gabe Lynch is a junior midfielder who prides himself on being a versatile lacrosse player.
"Kane is actually a defenseman and I personally have faceoffs, I pretty much play offense and defense and faceoffs," said Gabe Lynch. "I'm more half and half in midfield. It really feels good to contribute and to be able to watch my guys score and stuff.
Gabe's younger brother, Kane, is a freshman, who plays a very different role as a long-stick defenseman.
"My brother is doing pretty well, he actually scored his first college goal as a long pole," said Gabe Lynch. "Sometimes if we need someone he's the first to step in and say 'coach, I want to come and help.'
"He still has that mentality and it's just the way we were brought up.
As for Gabe and Kane's cousins, Gannon Lynch is also a junior midfielder, one who assists on both sides of the ball for the Warriors.
"I'm mainly an offensive intermediary, but I play a bit in defense," said Gannon Lynch. "I mainly take care of the ball and give it to our shooters."
His younger brother Brady is a freshman and also a midfielder, who has seen some playing time this season.
"My brother and I kind of go under the radar, we work hard, do what we're told and just do our job," said Gannon Lynch.
Joe Petrus is one of only four elders on the Indian River list. As a midfielder and leader, he has witnessed the growth of the program in recent years.
"I think it's neat, it makes practicing a lot of fun sometimes," he said.
Petrus is second in the Warriors in points, generating 35, including 24 goals and 11 assists in 10 games.
His younger brother Ethan, a sophomore, plays both attack and midfield.
"It's fun from a personality standpoint," said Joe Petrus. "We are all very close as a team."
Indian River junior forward / midfielder Rowan Marsell leads the team with 66 points, including 27 goals and 29 assists.
Reagan Alexander is a junior defenseman and his younger brother Riley is a striker, who sees playing time as a rookie.
"It's fun, it's my first year playing team defense," said Reagan Alexander. "I changed my attack a few summers ago and I really like it.
Reagan welcomes the new challenges and the responsibility of playing the defensive end of the game.
"One of the main aspects of defense is communication," Reagan Alexander said. "And I think it's just fun and it's cool to be a leader, just to communicate with everyone and see the results that work for us."
Connor McMahon is a first year forward and his older brother Seth is a midfielder / junior striker.
"He's doing pretty well, he's more of a defensive guy," Connor McMahon said of his brother. "I'm a middie, I help both offensive and middie."
Connor has already impacted the team offensively as he has contributed 20 points, including 13 goals, so far this year.
"We're all pushing each other, we're all pretty competitive," Connor McMahon said of the team's sibling combination. "We improve on each other, training and hanging out with each other during the summer."
The Warriors, whose venues are even more successful, will host league-leading Watertown on Tuesday at 5:30 p.m. Indian River beat the perennial mainstay of the Frontier League in their last meeting, 9-8.
"It could be better, I think we've lost a lot of close games," said Gannon Lynch. "But you can kind of see the light at the end of the tunnel when it comes to our program, this program has made a lot of progress in the last few years."
Indian River hopes to qualify again for the Section 3 playoffs, which begin the second week of June.
Three years ago, the Warriors recorded a historic victory for the program, beating South Jefferson, 6-5, for the school's first section victory in men's lacrosse.
"Every year we want to take action for the program and that's what we do," Davis added. "The Carthage game was a big win for us and we just want to keep moving forward."
"We feel like we have to put in an effort to be able to win and we will feel good about going into the end of the season," said Gannon Lynch.
And maybe the best part of the story is that most of the siblings on the Indian River team are hoping to play lacrosse again next year.
"We're pretty close, I mean we're going to hang out all the time and go fishing, hunting and everything," added Gabe Lynch. "Just mainly here, it's a fun time."